Mix By: Dj Blaze Italy
Mixtape Title: Niger Delta Praises
Type: Niger Delta Gospel Music
Tags: download niger delta praise songs, download niger delta songs, download urhobo praise songs, urhobo praise and worship songs mp3 download, urhobo gospel music mp3 download, download urhobo gospel mix, Niger Delta Gospel dj mix, ijaw praise songs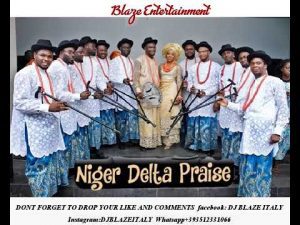 Description: It Always feels good to be in the presence of the lord and this time around based on  the request made by a fan for Niger Delta gospel DJ mix will present this mixtape Niger Delta Praise and Worship Songs Dj mixtape Isoko & Urhobo.
Shout out to all our fans from  Bini, Efik, Esan, Ibibio, Igbo, Annang, Yoruba, Oron, Ijaw, Ikwerre, Abua/Odual, Itsekiri, Isoko, Urhobo, Ukwuani, Kalabari, Okrika, Ogoni and Obolo people and Niger Delta at large. Enjoy this gospel mixtape and expect more of Niger-delta mixtape in future. Don't forget to drop your comment.
TrackList: No
Playing Songs of best Niger Delta gospel artists like evi edna ogholi, Late Evang Israel Uyeh of Uzere kingdom, late Kefee Don –Momoh who died of lung failure also used gospel talent to take Urhobo music to the Promised Land, Sammie Okposo,  Evang Ekpekuro Omamesiri Jerry (JP), Evang Emmanuel Ofano, Evang Paul Odhegba, Evang Alogbe Ogba,Rev Gabriel Ukpemueku,Evang Solomon Egbure,Rev.Dr Efe Cambridge,Evang Clerk .O.G Clerk,Evang Henry Ofogbor,Chakor Owede,Esselyte,Macualay Obore,Pst Sada and many more
Download Niger Delta Praise and Worship Songs Dj mix Isoko & Urhobo By Dj Blaze Italy Below
Download Dj Blaze Italy -Niger Delta Praise and Worship ( 83.94 Mb )
Show Some ♥ if you like this mixtape and your're a fan drop your comment. Be social !!
Follow Us On Instagram  Click Here
To Request For A Mixtape Click Here