This Mix is By  Dj Kaycee
DJ Mixtape Title: The Motivational Playlist(Don't Quit)
DJ Music Type: Gym & WorkOut Motivational DJ Mix
With Playlist/TrackList? Yes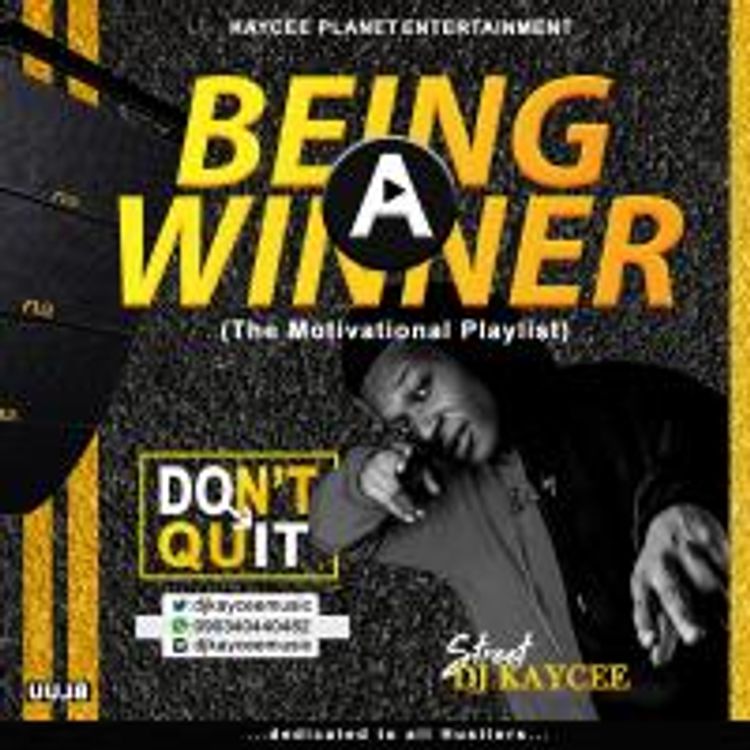 We can see you enjoyed this latest July 2020 DJ Mix. Kaycee Planet Entertainment Presents another Mixtape… This one is titled THE MOTIVATIONAL PLAYLIST Hosted by Street-DJ Kaycee after the success of his last Mixtape "The Playlist Mixtape Vol 3″… BEING A WINNER is a Motivational Playlist Mixtape for every Hustlers out there… Songs listed in the Mixtape is to inspire everyone hustling out there in his/her own way that there ar many challenges to face….despite that… DON'T QUIT.. just keep doing what you do best & pray to God for his grace and blessings… So grab your 🎧 & a Blunt!!!… Listen, be motivated & be thankful…. ENJOYEnjoy
Feel free to download, share, stream and enjoy this hot dj mix with all your friends, loved ones, social circles, colleagues and your enemies :). Don't forget to drop your comment if your a super fan, be social !!. Alway visit NaijaDjMixtape Website for more dj Mix. Cheers as you have a great and wonderful day wherever you are, we love you. Be Stay safe and be healthy.
1. Burna boy smoke some weed
2. Corizo Hate
3. Wizkid Jah bless me
4. Omawunmi & Darrin ThankGod
5. Jaywon This year
6. Corizo Oh Lord
7. .Erigga The Erigma 2
8. 9ice Street credibility
9. Olamide poverty die
10. P-Square bring it on
11. Fireboy DML wait & see
12. Corizo Ready or not cover
13. Tooclasiq & lyta Okay
14. Corizo inside life
15. Wizkid Joy
16. Corizo Run am for us
17. Diamond jimma & Otega Aje
18. Erigga Dem no get two heads
19. Erigga Real matter
20. Areezy Ori
21. Kaptain Money must drop
22. Kingtek ghetto boy
23. Erigga Glory
24. MartinFeelz Necessary
25. Timaya born to win
26. Omah lay bad influence
27. Kaptain Grateful
28. Wizkid Ghetto love
29. Rhatti Hustle
30. Kaptain Gbese Gbese
31. Kingtek Upcoming
32. Wizkid Oluwa loni
33. Davolee Way
34. Erigga Area scatter
35. Wizkid Ojuelegba
36. Victor Ad Wetin we gain
37. Picazo Pray for me
38. Victor Ad & Erigga Motiv
Download Below & Enjoy Non Stop Dj Kaycee – The Motivational Playlist Mixtape (Don't Quit)
Download Dj Kaycee – The Motivational Playlist Mixtape ( 70.71 Mb )
Show Some ♥ if you like this and your're a fan drop your comment. Be social !!
Follow NaijaDJMixtapes On Instagram  Enter Here
To Request For A Mixtape Enter-Here
JOIN MYFUN Whatsapp Group Enter Here Now 🙂