Mixtape Title: Kingdomboiz Best 2017 Official Worship Mix
Type: Nigeria Worship & Gospel Songs
Tags: kingdomboiz gbedu mixtape mp3 download, kingdomboiz songs, gospel mixtape 2018 download, gospel mixtape 2017 download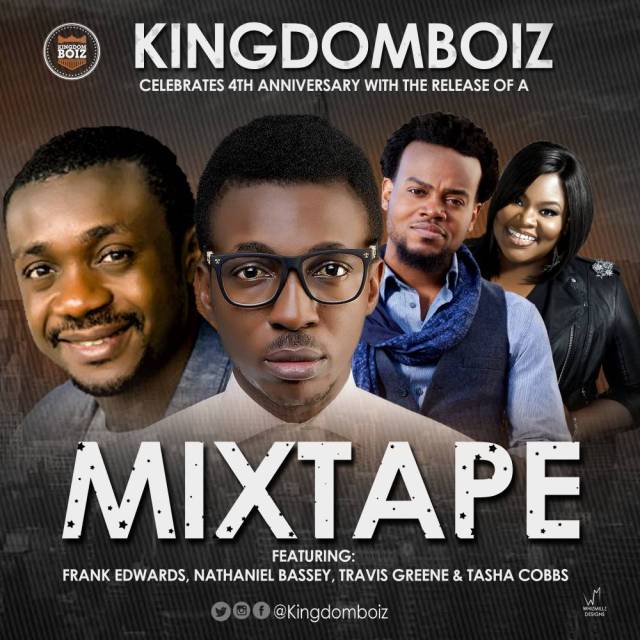 Description: Kingdomboiz Celebrates 4th Anniversary With The Release Of Mixtape
It has been a wonderful year For Us here
Kingdomboiz , We ' re happy to Announce That Your Favourite Nigeria Website is 4 Years Old (4th of october)
We' ve been promoting Good Music for 4 Years…
We' re happy to give our Fans our 4 Years Anniversary Mixtape cooked by Popular lagos based, Diken David  Popularly Known as Dj D.David, 
Check it Out , Download and Share with Loved Ones.
Kingdomboiz 4th Anniversary Mixtape
TrackList: Yes
1. Sinach – No Other Name
Frank Edwards – Wetin You No Fit Do
Nathaniel Bassey – Olowogbogboro
Nosa – Most High
Prospa – Ekwueme
Travis Greene – You Waited
Tasha Cobbs – I'm Getting Ready (ft. Nicki Minaj)
Elijah Oyelade – Owner Of The Key (ft. Nathaniel Bassey)
Noella – My source
Henri Soul – Take over
Isabella – Halle
Ada – I Overcame
Glowreeyah – Jesus Is Here
De- Ola – I Know You
KaeStrings – He's Here (Ga Shi Nan)
Download Kingdomboiz Best 2017 Official Worship Mix ( 75.25 Mb )
Show Some ♥ if you like this and your're a fan drop your comment. Be social !!
Follow Us On Instagram  Click-Here
To Request For A Mixtape Click-Here