Dj Latitude – Old School 90's to 2000 Mp3 songs Mixtape
The Turn up Initiator known for His relentless dope mixtapes every month is back again with another barrage of vibes this time, he's taking it back in time this time with old school vibes, switching up sounds from the 90s through To early two thousands, switching up music sounds with meaning. Y'all need to get back with this Retro Vibes and download the new Dj Latitude's Old School 90's to 2000 Mixtape.
This Mixtape is fortified with the juiciest Old School jams that rocked the airwaves , Clubs , streets etc from the  90's to the early 2000.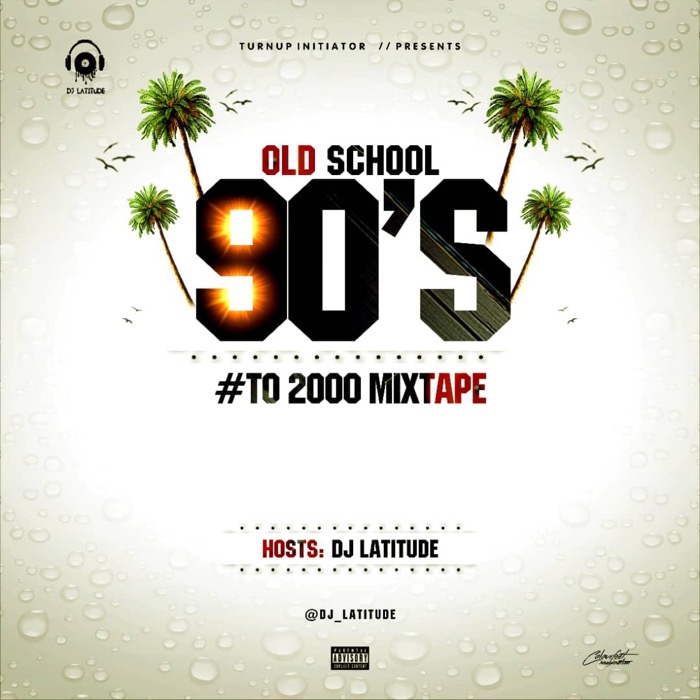 Tracklist
Joe – Don't Wanna Be A Player
Shabby Ranks Ft. Maxi Priest – House Call
Lauryn Hill Ft. Bob Marley – Turn Your Lights Down Low
Craig David – 7days
Dmx Ft. Sisqo – What These B****** want
Aaliyah – Down With The Clique
Nelly – Dilemma
50 Cent – Pimp
Busta rhymes – Give It to me
Non Chacant – 5 0 Clock
Rihana Ft. Jay Z – Umbrella
Dr. Dre – Been There Done That
Keith Sweat – Twisted
Wyclef Jean – Guantanamera
Blackstreet Ft. Dr Dre – No Diggity
Destiny's child – Jumpin Jumpin
Fugees – Ready Or Not
18. Puff Daddy Ft. Usher – I Need A Girl
Missy Elliot – Get Your Freak On
50 Cent Ft. Beyoncé , Mary J Blige & P. Diddy – In Da Club (Remix)
Donell Jones – This Luv
Eve – Gotta Man
Janet Jackson – Got Till Its Gone
Michael Jackson – They Don't Care About Us
Naughty By Nature – Feel Me Now
Usher – My Way
27. Sean Kingston – Me Love
2Pac Ft. Dr. Dre & Roger Troutman – California Love
Beyoncé Ft. Sean Paul – Baby Boy
Coolio – See You When You Get There
Busta Rhymes – Make It Clap
Dmx – Ruff Riders Anthem
I. Y . A . Z – Replay
Lil Kim – Put The Lighters Up
35. Snoop Dog Ft. Jay Z & Ludacris – I Wanna Rock (Remix)
Akon Ft. Lil Wayne – So Paid (Remix)
Bow Wow – My Name
Gina Thompson – The Things You Do
Naughty By Nature – Jamboree
Toni Braxton – You're Making Me High
Kanye West – Gold Digger
Adina Howard – Freak Like Me
Chubby – Limbo Girl
TLC – No Scrub
45. Trey Songz Ft. Fabolous – Say Ahh [It ur birthday]
Britney Spears – Baby One More Time
Baby Cham – Vitamin X
Baby face Ft. LL Cool J, Howard Hewett, Jody Watley & Jeffrey Daniels – This Is For The Lover In You
Black Eyed Peas Ft. Justin T – Where Is The Love
Diana King – Shy Guy
Jay Sean – Ride It
John Blu – I'm In Love With Your Booty
Dmx – Get It On The Floor
Mase Ft. Total – Tell Me What You Want
Wycleff Ft. Eve – I Don't Wanna Lose Your Love Tonight
Sean Paul Ft. Zige Mail – Is Gonna Be Alright
Mario – Let Me Love You
Usher – You Remind Me
2Pac – Hit Em Up
Brandy – You Don't Know Me
Cassidy Ft. Mashonda – Get No Better
Chaka Demus – Murder She Wrote
Fat Joe Ft. Terror Squad – Lean Back
LL Cool J – Doin It
R Kelly – Did You Ever Think
Raghav – Angel Eyes
Sean Paul Ft. Cecile – Rude Boy
Shabby Ranks – Ting A Ling
Waren G & Nate Dog – Regulate
Nas – I Can
Beenie Man – Gospel Time
Eve – Who's That Girl
Mario – Just a friend
R Kelly – Burn It Up
Jenifer Lopez – Love Don't Cost a Thing
Heavy D – Don't Be Afraid
Ja Rule – Always On Time
Carlos Santana Ft. Wyclef Jean – Maria Maria
Chopper – Shake It Like That
D King Classic – Lies
Destiny's Child – Independent Woman
Snow – Informer
Me Luche – Luche
Backstreet Boys – I Want It That Way
Mr Vegas – Headz High
Brick & Lade – Love Is Wicked
Lauryn Hill – Doo Wop
BIG – Notorious
Dmx – Party Up
Queen Latifah – Fly Girl
Missy Elliot – work It
Montell Jordan – This Is How We Do It
Biggie smalls & Puff Daddy & Mase – Mo More More Problems
T Pain – Bar Tendar
Kevin Little – Turn Me on
Rupee – Tempted To Touch
jay Z – Encore
Will Smith – Getting Jigg with it
Puff Daddy – I'll Be Missing You
Sisqo – Unleash The dragon
Download Foreign Old School 90's to 2000 Mp3 Songs Mixtape By Dj Latitude Below
Show Some ♥ if you like this and your're a fan drop your comment. Be social !!
Follow NaijaDJMixtapes On Instagram  Click-Here
To Request For A Mixtape Click-Here