Mix By: Dj HausaTop
Mixtape Title:  Valentine Arewa Mix
Type: Hausa Love Songs Dj Mix
Tags: best of hausa dj mix, dj hausa top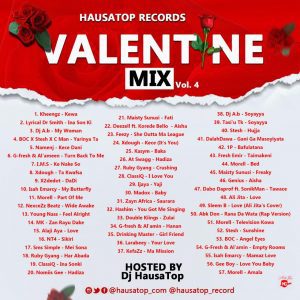 Description: Dj HausaTop returns with a brand new MixTape as a dedication for the Valentines Celebrations.
The MixTape" was produced and mixed by the Nortern famous Dj HausaTop as he gears up the Valentines day Celebrations for his fans across the world.
The new Valentine MixTape" features all the major Reggae artist with the message for love especially during this Love season.
Download this dope mixtape to spice up the Valentine season
TrackList: Yes
Kheengz – Kewa
Lyrical Dr Smith – Ina Son Ki
Dj A.b – My Woman
BOC X Stesh X C Man – Yarinya Ta
Namenj – Kece Dani
G-fresh & Al'ameen – Turn Back To Me
I.M.S – Ke Nake So
Xdough – Ta Kwafsa
X2dedot – DaDi
Isah Emarcy – My Butterfly
Morell – Part Of Me
NexceZz Beatz – Wide Awake
Young Nass – Feel Alright
MK – Zan Rayu Dake
Alaji Aya – Love
NT4 – Love You
Sms Simple – Mei Sona
Ruby Gyang – Har Abada
ClassiQ – Ina Sonki
Nomiis Gee – Hadiza
Maisty Sunusi – Fati
Deezell ft. Korede Bello – Aisha
Feezy – She Outta Ma League
Xdough – Kece (It's You)
Kasym – Baka
At Swagg – Hadiza
Ruby Gyang – Crushing
ClassiQ – I Love You
Ijaya – Yaji
Madox – Baby
Zayn Africa – Saurara
Hashim – You Got Me Singing
Double Kiings – Zulai
G-fresh & Al'amin – Hanan
Drinking Master – Girl Friend
Larabeey – Your Love
KefaZz – Ma Mission
Dj A.b – Soyayya
Tasi'u Tk – Soyayya
Stesh – Hujja
DalahDawa – Gani Ga Masoyiyata
1P – Bafulatana
Fresh Emir – Taimakeni
Morell – Bed
Maisty Sunusi – Freaky
Genius – Aisha
Dabo Daprof ft. SonikMan – Tawace
Ali Jita – Love
Sleem B – Love (Ali Jita's Cover)
Abk Don – Rana Da Wata (Rap Version)
Morell – Television Kowa
Stesh – Sunshine
BOC – Angel Eyes
G-Fresh & Al'amin – Empty Rooms
Isah Emarcy – Mamaz Love
Gee Boy – Love You Baby
Morell – Amala
Download Best Dj Hausa Top – Valentine Arewa Mp3 Love Songs Mixtape Below
Download Dj HausaTop – Valentine Arewa Mix ( 98.14 Mb )
Show Some ♥ if you like this mixtape and your're a fan drop your comment. Be social !!
Follow Us On Instagram  Click Here
To Request For A Mixtape Click Here