Mix By: Classy DJ Exprezioni
Mixtape Title: Turnt Vol. 5x Mix
Type: RnB Hip Hop Foreign Dj Mix
Tags: Hot New Hip Hop, Rap, RnB, and DJ Club Mixes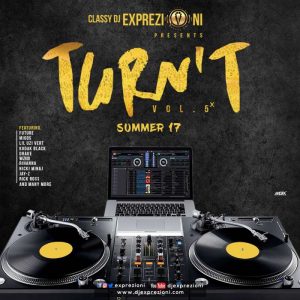 Description: World Classy DJ Exprezioni surfaces with yet another mind blowing mixtape Loaded with catchy tunes. This is another version of his Turnt Series Mixtapes.
He has been able to create niche for himself with the type of mixes he does in the Music Industry for Nigerians in and outside the country even for music lovers around the world.
Turnt Vol. 5x (Summer 17) features some international artists like Wizkid, Migos, Drake, Rick Ross, Meek Mill and more.
This is just a simple way to start your day. Check on it and Enjoy!
TrackList: Yes
1. Tee Grizzley – First Day Out
2. Wizzy Ft. Drake – Come Closer
3. DJ Khaled – Wild Thoughts Ft. Rihanna & Bryson Tiller
4. Yo Gotti – Rake It Up Ft. Nicki Minaj
5. Kendrick Lamar – Humble
6. Nicki Minaj – No Frauds Ft. Drake & Lil Wayne
7. Migos – T-shirt
8. Rick Ross – Trap Trap Trap
9. Migos – Get Right Witcha
1. Travis Scott – Goosebumps
11. Future – Draco
12. A Boogie Wit Da Hoodie – Drowning Ft. Kodak Black
13. Post Malone – Congratulations Ft. Quavo
14. Cardi B – Bodak Yellow
15. Kendrick Lamar – Dna
16. Drake – Free Smoke
17. Migos – Slippery
18. Lil Uzi Vert – Xo Tour Llif3
19. Yfn Lucci – Everyday We Lit Ft. Pnb Rock
2. Ayo & Teo – Rolex
21. Future – Mask Off
22. Meek Mill – Connect The Dots Ft. Yo Gotti & Rick Ross
23. 2 Chainz – 4 Am Ft. Travis Scott
24. DJ Khaled – I'm The One Ft Justin Bieber, Quavo, Chance The Rapper & Lil Wayne
25. Kodak Black – Tunnel Vision
26. Playboi Carti – Magnolia
27. Gucci Mane – Met Gala Ft. Offset
28. French Montana – Unforgettable Ft. Swae Lee
29. Jason Derulo – Swalla Ft. Nicki Minaj & Ty Dolla Sign
3. Drake – Blem
31. Chris Brown – Privacy
Download [Latest Foreign Dj Mix] Classy DJ Exprezioni – Turnt Vol. 5x Mix 2019 Below
Download Classy DJ Exprezioni – Turnt Vol. 5x Mix ( 35.15 Mb )
Show Some ♥ if you like this and your're a fan drop your comment. Be social !!
Follow NaijaDJMixtapes On Instagram  Click-Here
To Request For A Mixtape Click-Here
DJ Mix Last Updated on