Mixtape Title: Best of Fela Anikulapo Kuti Mixtape
Type: AfroBeat and Highlife Compilation
Tags: download best of fela kuti songs, best of fela mixtape mp3 download, download best of fela 2 mixtape, fela shrine dj mix, album, fela mix 2018 2019, 2020, download the best of fela kuti mix by dj ras sjamaan, dj baddo best of fela, download dj baddo best of fela
Fela Anikulapo Kuti, born in 15 October 1938 was a Nigerian multi-instrumentalist, musician, composer, pioneer of the Afrobeat music genre, human rights activist, and political maverick, as Wikipedia described him. He has been called "superstar, singer, musician, Panafricanist, polygamist, mystic, legend.
Here Is The World Famous Continental Dj Baddo With the Amazing Mixtape Of The Abami Eda ( Fela Anikulapo Kuti ) titled BEST OF FELA
This Mixtape is a good combination of sounds and rhythms of the late Music Icon Baba 70.
Trust me, Dj Baddo is so on point on this great work and you will enjoy this if you really truly Love Good Music.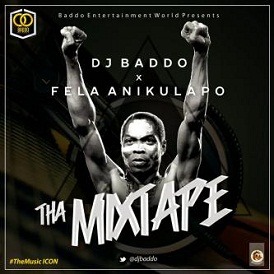 Best Of Fela Mixtape
Fela Kuti Songs
Fela Kuti Water No Get Enemy
Fela Kuti Shakara
Fela Kuti Army Arrangement
Fela Kuti Sorrow Tears and Blood
Fela Kuti Trouble Sleep Yanga Wake Am
Fela Kuti Colonial Mentality
Fela Kuti Beasts of No Nation
Fela Kuti Opposite People
Fela Kuti Everything Scatter
Fela Kuti Zombie ·
Fela Kuti He Miss Road
Fela Kuti Black Man's Cry
Fela Kuti Teacher Don't Teach Me Nonsense
Fela Kuti Alagbon Close
Fela Kuti Mr. Follow Follow
Fela Kuti Ololufe Mi
Fela Kuti Confusion Break Bones
Fela Kuti Original Suffer Head
Fela Kuti Fear Not For Man
Fela Kuti Egbe Mi O
Fela Kuti Go Slow
Fela Kuti Eko Ile
Fela Kuti Don't Gag Me
Fela Kuti Monkey Banana
Fela Kuti Just Like That
Fela Kuti O.D.O.O.
Fela Kuti Expensive Shit
Fela Kuti Jeun Ko Ku
Fela Kuti Lady
Fela Kuti I No Get Eye for Back
Fela Kuti Power Show
Fela Kuti Who No Know Go Know
Fela Kuti Monday Morning in Lagos
Download Dj Baddo – Best Of Fela Mix ( 64.27 Mb )
Show Some ♥ if you like this and your're a fan drop your comment. Be social !!
Follow NaijaDJMixtapes On Instagram  Click-Here
To Request For A Mixtape Click-Here